Our History
Established in 1990, we've grown steadily, building our reputation for friendly service, specialist expertise and advanced online technology.
1990
.
Buckland Dix and Wood founded by Nimrod Dix with offices at 1 Old Bond Street, London
June 1991
.
First Medal auction including our first Victoria Cross - award to Major A E Ker, Gordon Highlanders, 1918
December 1991
.
Dedicated Upfill-Brown Collection auction, setting a new world record for a single-owner medal collection
January 1993
.
Chris Webb joins to establish the Coin, Token, Historical Medal and Banknote Department
June 1993
.
Our first 'British and World Coins, Tokens, Banknotes and Medallions' auction
June 1996
.
Pierce Noonan appointed as a Director and the name becomes Dix Noonan Webb
1999
.
Sold 10,000 lots in a year
September 2001
.
First Dix Noonan Webb website launched
December 2001
.
Robin Greville appointed as a Director to drive forward our technology and systems
November 2002
.
Moved offices to our current location, 16 Bolton St, Mayfair
2008
.
Sold 15,000 lots in a year
September 2009
.
Sold the 'Iraq 2003' Conspicuous Gallantry Cross to Lce Cpl Justin Thomas, Royal Marines for £88,000 — The first CGC to be sold by any auction house
June 2014
.
Unique Penny of Æthelberht II of East Anglia sold for £65,000 - a record price at auction for an Anglo-Saxon Penny
July 2015
.
Sold the posthumous WWII George Cross to Violette Szabó, SOE creating a new auction record for a GC of £260,000
March 2016
.
Our first Jewellery, Watches and Objects of Vertu auction
September 2017
.
Our first lot sold in a foreign currency (VC to Col David Vivian Currie). Hammer price: $550,000 CAD
2018
.
Sold 20,000 lots in a year
May 2018
.
Dedicated Banknote department opens
November 2018
.
Expanded into 17 Bolton St - Jewellery showroom opened
April 2019
.
Launched our bespoke live bidding system
May 2019
.
Metal Detecting Finds and Antiquities Department opens
June 2019
.
Roman Aureus of Allectus sold for £460,000 discovered by a metal detectorist in Kent
2021
.
Sold 25,000 lots in a year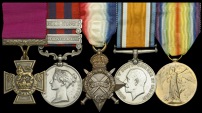 June 2021
.
Sold our 40th Victoria Cross at auction — The group of medals to Colonel CJW Grant for £420,000 — Creating a new auction record for an army VC
August 2021
.
Earliest known fully issued banknote for Hong Kong sold for £130,000. World record price for a Hong Kong banknote
September 2021
.
Art Deco bracelet formerly from the Collection of Her Royal Highness, The Princess Margaret, sold for £320,000
November 2021
.
Sold the George Holloway Collection of Elizabeth I Sovereigns — This auction of 33 coins hammered a total of £1.3 million
March 2022
.
Important gold Leopard of Edward III sold for £140,000. Discovered by metal detectorist in Norfolk.
April 2022
.
Dix Noonan Webb rebrands and shortens its name to Noonans