Auction Catalogue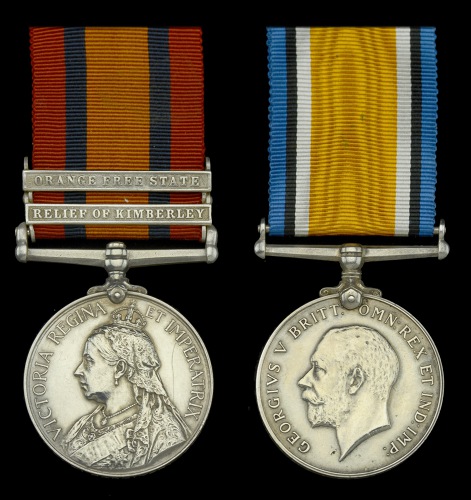 Lot
№ 17
.
10 November 2021
Hammer Price:
£200
Pair: Private G. A. Parmiter, Oxford Light Infantry, later Canadian Army Service Corps
Queen's South Africa 1899-1902, 2 clasps, Relief of Kimberley, Orange Free State (5426 Corl. G. A. Parmiter, Oxford Lt. Inft.); British War Medal 1914-20 (2590842 Pte. G. A. Parmiter. C.A.S.C.) very fine (2) £120-£160
George Alfred Parmiter was born on 23 October 1878, at Lambeth, Surrey. He served for six years with the Oxford Light Infantry, enlisting at London on 28 April 1897, declaring prior service with the Medical Staff Corps (Militia). He was promoted Lance Corporal on 20 July 1898; Corporal on 4 October 1899; and Sergeant on 1 June 1901. He served in South Africa during the Boer War and was wounded at Klip Drift on 16 February 1900. He was discharged medically unfit on 12 September 1901.
Parmiter later migrated to Canada and enlisted for service in the Great War at Toronto on 6 September 1917. He proceeded to England on 4 March 1918, and did not land in France until 17 November 1918, hence the British War Medal is his sole medal entitlement for his Great War Service. He was demobilised on 30 March 1919, at Toronto.