Auction Catalogue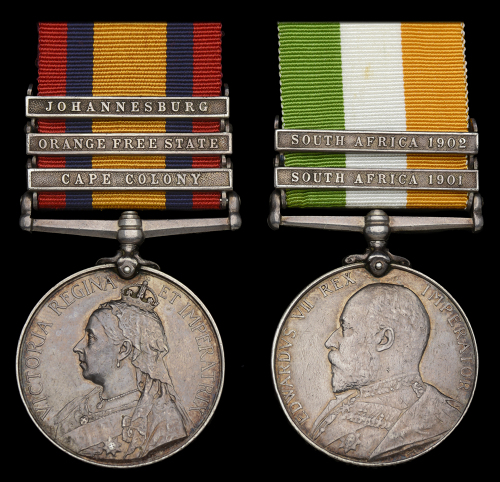 Lot
№ 21
.
10 November 2021
Hammer Price:
£170
Pair: Private G. Weston, Oxfordshire Light Infantry
Queen's South Africa 1899-1902, 3 clasps, Cape Colony, Orange Free State, Johannesburg (5153 Pte. G. Weston. 1/Oxfd. L.I.); King's South Africa 1901-1902, 2 clasps, South Africa 1901, South Africa 1902 (5153 Pt. G. Weston. 1st Oxfordshire Lt. Inftry.) the KSA unofficially renamed; light contact marks, otherwise very fine (2) £80-£120
George James Weston was invalided from the service in August 1901. He re-enlisted in the Army Veterinary Corps in January 1915 and received the 1914-15 Star, British War Medal and Victory Medal.