Auction Catalogue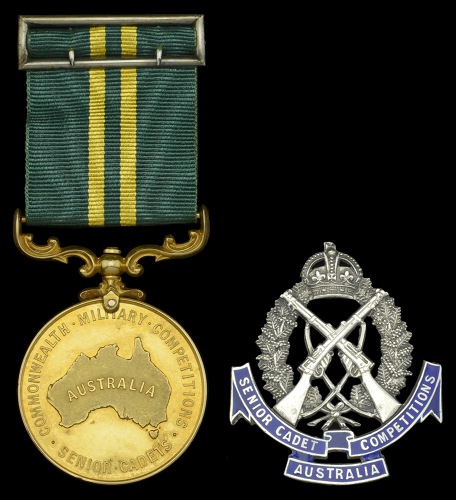 Lot
№ 14
x
.
3 December 2020
Hammer Price:
£4,600
Australia, Commonwealth Military Competitions, Senior Cadets Champion Team 1912-13, 18ct gold, engraved 'Cadet E. P. Allen. "K" Coy. 36th Battn. 2nd Mil. Dist.' together with a rare Senior Cadet District Competitions 1913-14 badge, silver, with the motto in blue enamel, reverse engraved 'Cadet E. P. Allen. K. Coy. 36th Battn. District Series. 1913-14', nearly extremely fine, the Senior Cadet District Competitions badge an excessively rare type with the motto enamelled (2) £1,800-£2,200
K Company, 36th Battalion (Newington College Cadets) was the champion team in the Commonwealth Series of Military Competitions held at Sydney on 6-7 June 1913. The presentation ceremony took place on 14 March 1914, an account of which appeared in the Sydney Morning Herald on 16 March 1914:
'A parade of four companies of cadets, inspected by Lieutenant-Colonel A. W. Wallack, C.B., District Commandant, took place on the Newington College grounds on Saturday afternoon. The occasion was the presentation of gold medals, silver badges, and ribbons to the champion team in the Commonwealth series of military competitions for 1912-13, which was won by K Company of the 36th Battalion. Badges were also awarded to company (36A area) who were winners of the battalions' competition. Companies from areas 34A (Enmore), 35A (Marrickville), 36A (Stanmore), and 36B (Petersham) took part in the parade, and as the young soldiers wheeled, formed, re-formed, and after a variety of evolutions finally marched, colours flying and bands playing, past the District Commandant and his staff, the spectacle was not lacking in impressiveness, though, except for the winning company, the marching occasionally would have been none the worse for a little more drill. Among those present were Lieutenant Colonel Wallach, Lieutenant-Colonel Luscombe, A.A.G., Lieutenant Brown, A. and I. Staff, Colonel Cox, 8th Lancers, Colonel Pearce, A.F.A., Rev. C. J. Prescott, headmaster of Newington College, Captain Smith, brigade major of the 9th Brigade, Major Buchanan, CO. 36th Battalion, Major Reddish, CO. 35th Battalion, Captain Caunt. CO. 34th Battalion, and the officers commanding companies... A large silver shield, presented by the British Australian Tobacco Company, was also won by K Company.'
The rich and interesting history of cadets in Australia stretches back to 1866 when the first unit was established at St. Mark's Collegiate School, New South Wales. This unit subsequently became the King's School Cadet Corps in 1869. Remaining under State auspices until 1906 when the Commonwealth Cadet Corps was established, conscription for part time home service, including service by cadets, was introduced in 1909 and, under the Defence Act of 1903, the Corps was included in the provisions for Universal Military Training. Compulsory training for all male school children started in 1911, with 92 Cadet Battalions having been formed, comprised of 922 Companies.
The Australian Senior Cadet Competition ran each year from 1911 to 1914. There were four stages with winners of each stage advancing from the Battalion, District, Brigade and then finally Commonwealth. Battalion winners received a cloth badge, District and Brigade winners a silver medal and there was a gold medal awarded to the Commonwealth winners. In the period 1913-14 before the competition was disbanded, the medals were changed to silver (Brigade), silver and enamel (District) and gold for the winners. 44 gold medals were issued to the winning team members in 1912-13. Most likely due to the large gold content of each medal, only a few examples of Gold Medals from any year are known to exist.
Note: This lot is available for viewing in Swanbourne, Western Australia, by appointment with our Australasian representative, John Burridge.